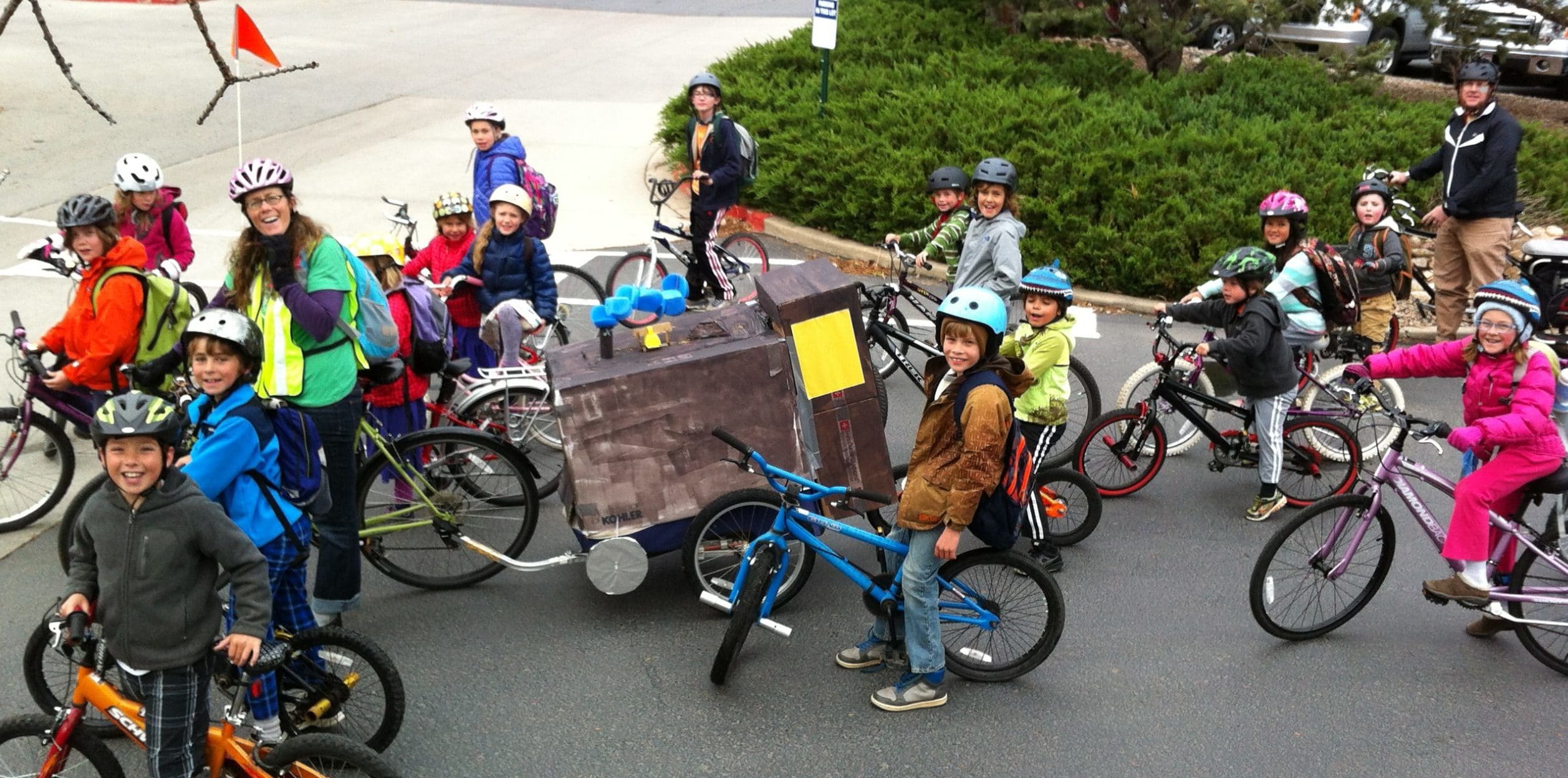 Drop Off and Pick Up at Mountain Sage in 2020-2021
Due to the COVID-19 pandemic there have been several changes to drop off and pick up in the 2020-2021 school year.  Theses changes include:
Mask wearing: Parents, please wear a mask when on school property when dropping off and picking up, including those who walk or bike.
Adjustments to Morning Drop-off: Temperature checks and COVID-19 symptoms checks will occur each morning. These will happen near the bike racks for bikers/walkers and at the driveline drop-off area for those in vehicles.  Students/staff with any symptoms will not be allowed at school for in-person learning. 
Prior to coming to school, please do a symptom check with your student. If they have any symptoms they will need to stay home.
After temperature and symptoms check, symptom free students will go directly to their classrooms. Playground drop off will not happen in the 2020-21 school year.
Bikers and Walkers: We still encourage biking and walking to school. Students will do their symptoms check near the bike racks. They will be sent home if they have any symptoms. Parents, please check for symptoms before leaving for school. Please see the Important Details section below for more information.
Vehicles Must Use the Driveline: Due to the COVID-19 pandemic, we ask that parents who utilize a vehicle at drop-off and pick-up times use the Driveline ONLY. Do not park and get out of your car to drop off or pick up your student. 

No matter the year, please remember:
Make safety your top priority during drop-off and pick-up times. 

Always drive slowly.

Watch for people who are biking or walking.

Carefully follow directives of traffic attendants.

Drop off and pick up by vehicle is only allowed via Driveline in the loading/unloading zone located along the west side fence of the playground. 

Do not use your cell phone during the drop-off/pick-up flow.

Do not impede traffic on the east-west roadway.

No idling!  Turn off your car while waiting in the drop-off/pick-up zone

Keep your Driveline number private. Remove the tag from your rearview mirror when not in use. Talk to your children about who is allowed to pick them up, and inform them of what/who they should expect at pick-up each day.

Inform the school if you have any safety concerns.
Important Details
Morning Drop-off begins at 8am when teachers and traffic attendants arrive outside. Drop off via vehicle is only allowed via Driveline in the loading/unloading zone located along the west side fence of the playground. The drop-off driveline ends at 8:30am. If you arrive after 8:30am you must park and walk your child to the building where they will have their temperature and symptoms check and be signed in.
Afternoon Pick-up begins at dismissal time: 3:30pm on M, T, W, Th. The pick-up driveline ends approximately 20 minutes after dismissal. If you arrive after the Driveline closes, you must park and come inside to pick up your child. Arrival after 4pm will result in a late charge of $1 per minute per child.   
For Those Using the Driveline: ​
During drop-off, at the traffic attendant's signal, drivers may pull forward into the loading/unloading zone, allowing their children to exit the car. Give us a thumbs up when your children are unloaded safety. During pick-up, hang your family Driveline number tag on your rearview mirror. Children will be dismissed from their classroom when their number is dispatched and will take the sidewalk to the pick-up waiting area. Once in the loading/unloading zone, cars are stopped and children are released by an attendant to walk to their cars. Give a "thumbs up" when your children are loaded safety. When everyone is safely loaded, an attendant will signal to slowly move forward out of the parking lot. 
For Those Who Walk or Bike:
Parents meeting their child via walking or biking must wear and mask and will need to know their family driveline number. After arriving, locate yourself on one of the physical distance prompts stenciled on the sidewalk in front of the school. Give your family driveline number to the attendant when asked. Children will be dismissed from their classroom when their number is dispatched. When your children arrive, please exit the Walk Up Pick-up zone promptly.
Biking and Remote Park & Walk Options
Parking and walking a short distance, even once a week, will greatly assist  in reducing car traffic, congestion, and air pollution at school. It also gives your child time for some energizing morning exercise, or the time after school to chat and reconnect with you. Try these park and walk locations:
Riverbend Ponds Natural Area on the north side of Prospect. It is a ¾ mile walk on the sidewalk and/or Spring Creek Trail. 

East parking lot of Edora Park near EPIC (Riverside Ave & Prospect Rd). It is 20-minute walk on the Spring Creek Trail.​



Mountain Sage is right off the Spring Creek Trail.  If you live near the Power Line, Poudre or Spring Creek Trails, you may even be able to bike to school without crossing many streets! Route finding or questions? ​Contact Nancy Nichols with Safe Routes to School, saferoutes@fcgov.com, 970.416.2357.