Cultivating the Creative Mind
Mountain Sage Community School's arts-infused curriculum is inspired by Waldorf education methods, integrating Colorado Academic Standards and sustainability into daily and weekly rhythms that allow our students to thrive personally and academically. We offer two developmentally appropriate and academically rigorous educational programs, each one following our core design principles. Children in our K-8 Grades Program experience a unique and special community that nurtures connection between our middle and elementary school students, and where students are seen and heard by all teachers. Children in our Homeschool Enrichment Program experience nature immersion two days a week and connection to our larger school community through festivals and events.
Core Design Principles
Fundamental to any program we offer, these core design principles are the bedrock of our school.
Integrated, Interdisciplinary Curriculum
Our curriculum gives students the opportunity to experience the interrelated nature of all subjects. Revealing the connections that exist across disciplines allows students to experience the world around them as an integrated whole. It facilitates active, engaged learning, and encourages children to bring all of their intelligences and experiences to the learning activity at hand. We believe that students learn better, retain more knowledge, and enjoy school more when subjects are taught in practical, meaningful ways.
Experiential Learning
Experiential learning is a key component of our education model. Through direct experience each child is given the time to discover, integrate, and experiment with new information and ideas before the teacher expects any indication of mastery. This approach ensures that students have opportunities to access multiple learning styles to understand the material.
World Language
Students study Español at Mountain Sage. Our immersion approach to learning language encourages students to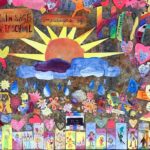 experience the value and beauty of different cultures in ways that expand their academic capacity and deepen their appreciation for diversity. This is one of the ways the school embodies the value of equality for all human beings and fosters acceptance, respect, understanding, and social tolerance.
Arts-Based Academics
The arts provide highly effective tools for learning, exploring and mastering material. Woven throughout a rigorous curriculum, the arts support academic success by enabling information to be presented and processed in multiple ways; verbal/linguistic, mathematical/logical, visual/spatial, bodily/kinesthetic, musical/rhythmic. Through the arts, children have the opportunity to uniquely participate in their education while discovering the importance of their own artistic expression.
Environmentally Conscious, Sustainable Living
Everyday rhythms and routines of our school community help to cultivate a sense of gratitude, respect, and responsibility for self and all living things. Mountain Sage strives to build an ecologically informed community. Through our work with nature and organic gardening, children learn about the interconnectedness of nature, self, and community. Sustainable living practices within the school manifest in many ways including classroom materials made with renewable resources, composting, recycling, cleaning done with environmentally friendly products, and waste and energy use reduction practices. We are committed to exploring ways to deepen this work, including creating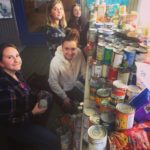 class content that elevates sustainability into action.
Community-Building & Community Involvement
Mountain Sage brings highly qualified parents and community members into the classroom to share their expertise, whether from life experience or professional endeavors. These volunteers enhance learning opportunities and bring a dynamic element to the classroom. We seek contributions from a wide variety of people, hoping to represent the diversity that exists both in our school and the greater Fort Collins community. These opportunities encourage community wide learning and information sharing in ways that keep our MSCS community healthy while contributing to a vibrant and strong community in Northern Colorado.
Learning Environment
Highly effective learning environments allow students to actively build understanding by connecting new information and concepts to prior knowledge and experience. Classrooms are organized for active, hands-on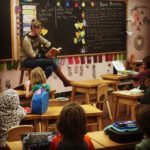 learning and flexible grouping. Ensuring a beautiful, clean, organized, and artistic environment in which the students study is critical in Waldorf pedagogy.
Our kindergarten program provides a rich, tactile learning environment that is largely an extension of the richness of home-life. A deep connection to nature is supported through use of high quality, natural materials, as well as seasonal studies and outdoor educational activities. Harmonious daily rhythms, seasonal stories, fairy tales from around the world and homelike activities provide opportunities to strengthen body and imagination. This environment establishes the rhythmic foundation to support all future learning.
Developmentally Appropriate Practices
Developmentally appropriate educational practices are based on child development principles and scientific research of brain development and the growth of neural and cognitive structures. Developmentally appropriate practices allow children to develop skills and competence in all areas (intellectual, social/emotional, and physical), develop self-esteem and positive feelings about learning, and are responsive to individual differences in developmental stages, abilities, and interests.
​
Mountain Sage curriculum is designed to mirror the child's developmental stage, engage the whole child, and create a learning environment where knowledge, skills, and feelings are integrated to create a holistic learning experience.
Lesson Blocks
Various subjects are studied in depth over the course of a few weeks, also known as blocks. In the course of each main lesson block, a particular academic discipline is addressed through a common theme. Student-created main lesson books, portfolios, projects, artwork, as well as formal assessments, are used to evaluate the student learning.
Cooperative Learning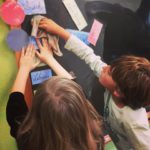 Cooperative learning facilitates community building. Cooperative project work builds on academic and social skills and often requires students to employ creativity and ingenuity as they work through the problem solving process together. This approach gives teachers the flexibility to individualize the curriculum to meet different needs while at the same time offering a lasting sense of educational ownership for groups of students.
Teacher & Class Continuity
Class teachers stay with a particular group of students for multiple years, building strong relationships that not only support academic performance and growth, but also social/emotional health and wellbeing. Learn more about Teacher & Class Continuity here.