Cultivating the creative mind through an engaged community of intelligent, compassionate, and creative individuals.
K-8 public charter school inspired by Waldorf education and sustainable living in Fort Collins, Colorado.
Prospective Families: What You Need to Know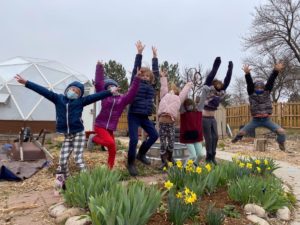 We are so excited that you are considering Mountain Sage for your child's educational journey! January 21st is the
lottery
, when potential new families are selected.
Intent to Enroll forms must be submitted no later than January 20th.
If you have not yet signed up for a
virtual tour
, please do ASAP. We have just two dates left before the lottery. Questions?
Email our Registrar
.
Simplicity Parenting Book Club
Join the company of other Mountain Sage adults as we read and discuss Kim John Payne's book 
Simplicity Parenting
. Our next gathering will be
Saturday, January 22nd, 10am, at Wolverine Press
. Pertinent to parents of children in all grades, this book " is an eloquent guide to bringing new rhythms to bear on the lifelong art of raising children." For more information, feel to contact parent organizers
Rachael
or
Autumn
.
Time to Re-Enroll
It's that time of year again! All currently enrolled families must fill out the Intent to Enroll form for the 2022-2023 school year. Questions? Email our Registrar.
7 Core Principles of Public Waldorf Education
As a member of the Alliance for Public Waldorf Education, we support and follow these important principles:
1. Image of the Human Being. Public Waldorf education is founded on a coherent image of the developing human being. 
2. Child Development. An understanding of child development guides all aspects of the educational program, to the greatest extent possible within established legal mandates.
3. Social Change Through Education. Public Waldorf education exists to serve both the individual and society.
4. Human Relationships. Public Waldorf Schools foster a culture of healthy relationships.
5. Access and Diversity. Public Waldorf Schools work to increase diversity and access to all sectors of society.
6. Collaborative Leadership. School leadership is conducted through shared responsibilities within established legal structures.
7. Schools as Learning Communities. Public Waldorf schools cultivate a love of lifelong learning and self-knowledge.