The Season of Light
The season of light is upon us! As we experience the short days and the long dark nights of winter, we turn toward our inner light for strength and compassion. During this time, Mountain Sage celebrates the light within each of us through various events focused on fortifying our own light and seeing the light within one another: Lantern Walk, Winter Spiral, and Winter Faire.
Winter Celebrations at School
Winter Spiral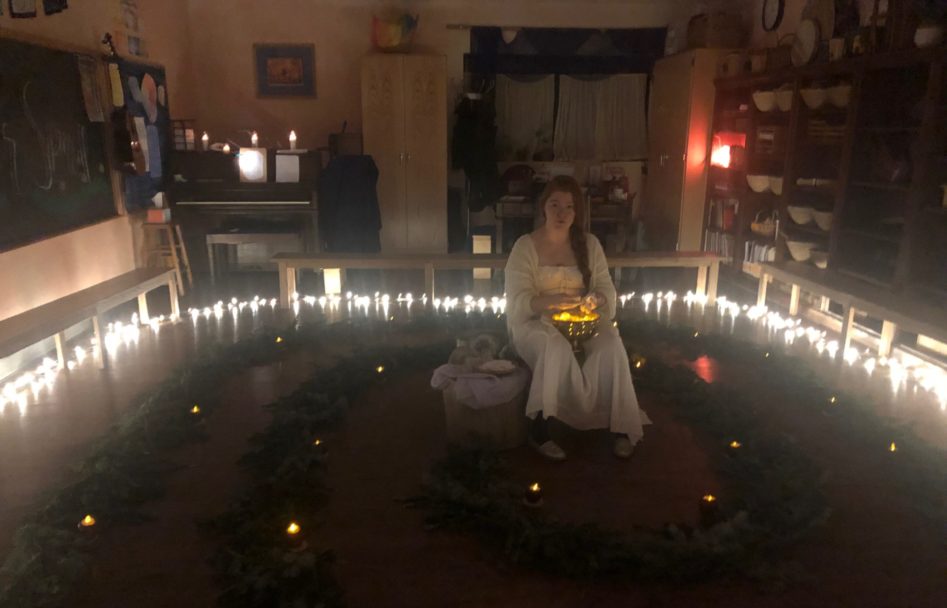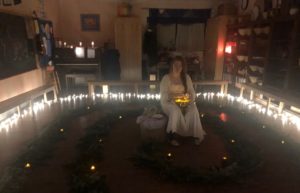 Winter Spiral is a contemplative, peaceful experience during music classes, December 14th-20th. Held in a quietly lit and beautifully arranged space that includes a large spiral made of pine bows, Winter Spiral is an age-old tradition that seeks to honor the inner light of each individual that serves to nourish both the self and the rest of humanity through the darkness of winter.  Each child is invited to walk the spiral while accompanied by gentle, instrumental music and song, gathering a "flame" and contributing it to the larger communal light.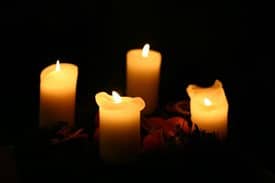 Winter Faire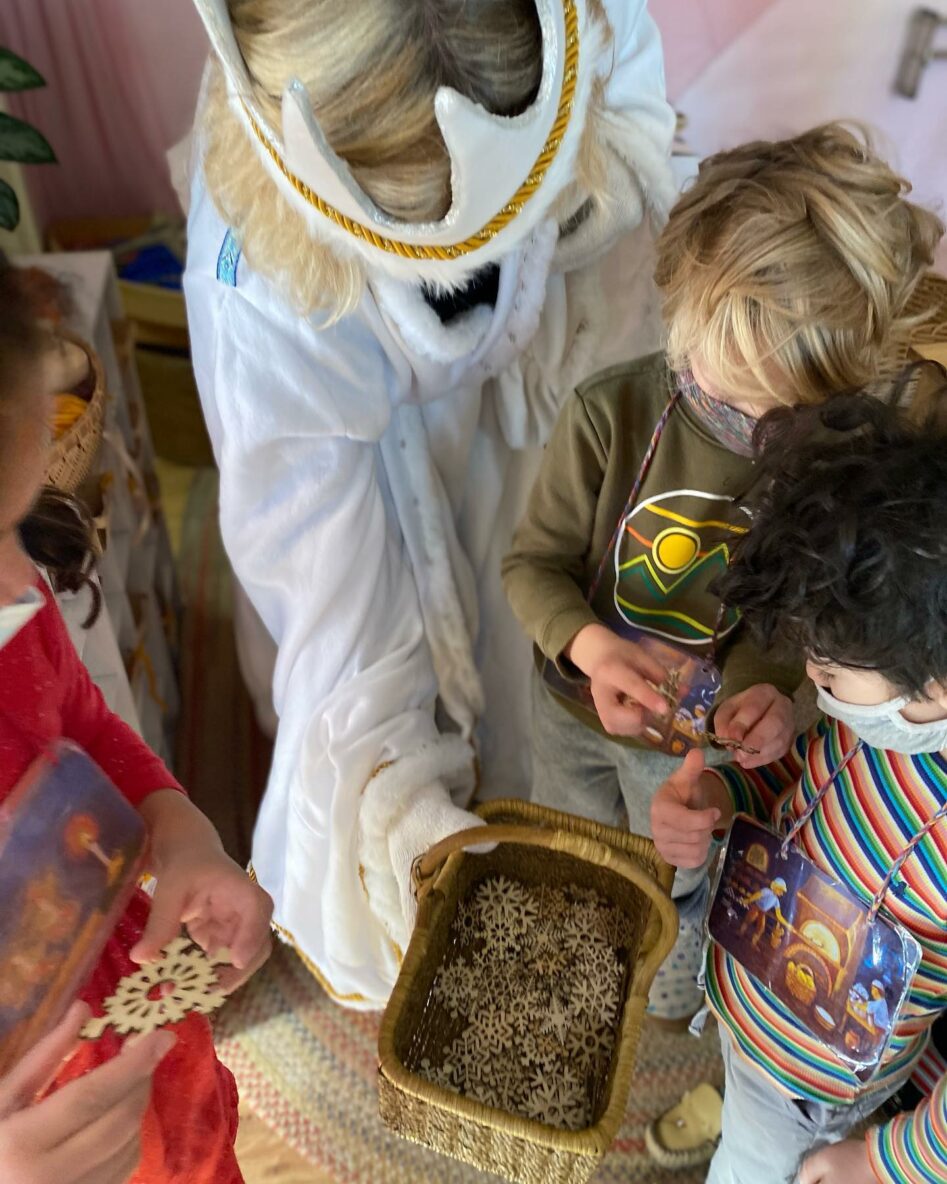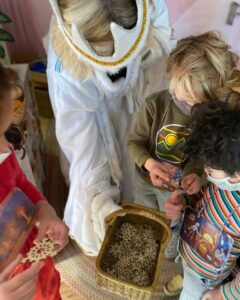 Winter Faire is a joyous and festive celebration of our school community and the warmth we bring to each other during the cold of winter. Held on December 21st, the last day of school before Winter Break, the morning is filled with activities including gnome garden building, a visit from King Winter and the Pocket Lady, a story, and more! This year we are pleased to bring back the beautiful tradition of the Fairy Room. A magical space filled with handmade gifts, students will walk the room and pick a gift for someone they hold dear. In keeping with Fairy Room tradition, 8th grade students will be fairy guides for students in grades K-5.
Sign Up to Volunteer, Craft, and Donate Items
Both of these winter celebrations are only made possible with the help of our wonderful volunteers and donors. Thank you in advance for your contributions of time, talent, and treasure.
Winter Spiral- donate pine boughs and volunteer your time
Winter Faire- volunteer your time
Crafting Circles- create small treasures with other MSCS adults, hosted by Marna Widom RSVP Required
Fairy Room Donations- create and donate items to fill the Fairy Room
Gnome Garden Nature Item Donations- gather and donate various items for gnome gardens
---
Celebrate the Season of Light at Home
Winter Spiral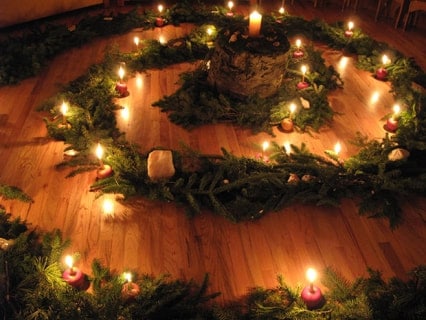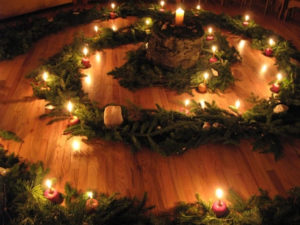 Winter Spiral can also be a part of your own winter holiday celebrations in whatever way feels significant to you in this time of year, whether that be in celebration of the winter solstice, the coming of holidays, or simply of walking the journey of life with family and friends.
Sing Songs of Celebration and Warmth
I Light the Night
I Light the Night
I light the night my candle burns
I light the night my candle burns
First one, then two, then three then four
My heart is shining like a star
In a Winter Garden
In a Winter Garden
In the winter garden
Dark the night below
Earth is waiting, waiting, waiting
For the stars to show

Rise Up O Flame
Rise Up O Flame
Rise up o flame
By thy light glowing
Bring to us beauty
Vision and joy
Hold On
Hold On
Hold on, hold on
Through the darkness
until the dawn
One Planet is Turning
One Planet is Turning
One planet is turning
Circle on her path around the sun
Earth mother is calling
Her children home
Round and Round the Earth Turning
Round and Round the Earth is Turning
Round and round the earth is turning
Turning slowly round 'til morning
And from morning round to night
First Light
Each week of this season, adorn your table with a homemade decoration celebrating four beautiful aspects of our world. Use what you have on hand, can gather on walks, and in your yard.
Paper Stars
A wonderful way to bring light and magic into your space or a fun gift to give, these paper stars require a thick, sturdy paper and a bit of patience. Make them any size and attach some string for a versatile decoration. Put on your favorite music for this time of year or listen to the songs at the bottom of the page, gather your supplies, and enjoy!
A Winter Story
Join Mrs. Docherty in the most beloved of Winter Faire traditions: a winter story. Cozy up and listen to the story of Alma and her adventures in The North Country.